Smart electric lock

Two color choices to compliment your house (Slate or Tan)

Can be bolted to your patio, porch, or outside of your garage

Accessed by all delivery services (USPS, FedEx, UPS)

HOA approved bench design

Weatherproof and UV resistant

7 cubic feet of capacity

Android and Apple mobile app control

Access to a power outlet required

Works with Aladdin Connect- allowing you to get extra large deliveries placed right in the garage.
The BenchSentry package delivery porch box hides your packages, plus secures them upon delivery by only opening with specific codes. While typical mailboxes will only fit small envelopes, the BenchSentry vault fits extra large parcels. Bench owners receive push notifications of all Bench interactions. You can even create custom entry codes to share with friends and family when swapping items with the BenchSentry free app!
Bench Dimensions: 35" x 23" x 25"
Seat Height: 23"
Internal Capacity: 7 cubic feet
| | |
| --- | --- |
| | |
| | Requires 2.4 GHz band WiFi |
| | Access to a power outlet required. AC Adapter (Included), Standard U.S. Cable (NEMA 5-15P) |
| | |
| | |
| | |
| | U.S. Carrier Tracking Number or User Defined Entry Code |
| | Last four (4) digits of Tracking Number or Entry Code (shared by homeowner) |
| | |
| | |
| | 3.5" 320x480 Backlit LCD, Resistive (glove friendly) |
| | Heavy Duty UV/Impact/Weather Resistant Thermoplastic |
| | |
| --- | --- |
| | |
| | Setup a delivery on the free BenchSentry app and add the tracking information. |
| | The delivery driver puts the last four digits of the tracking number into the key pad. This could also be a code you provided a friend or family member. |
| | The delivery driver can place the package into the porch package bench. |
| | The packages are now safe and secure. Since they are in the bench, no one can steal them and they are protected from the weather. |
| | You get an alert to your smart device that the bench is locked and the delivery was placed inside. |
| | The packages stay inside the safe and secure porch bench until you are ready to take them inside. The stylish bench blends in and looks just like home décor! |
---
Add UPS, FedEx, and USPS tracking numbers to BenchSentry for real-time tracking and monitoring of package deliveries. Once the carrier delivers your package, the BenchSentry automatically locks, securing your delivery.
Take care of your packages from anywhere with the FREE BenchSentry mobile app. The app gives you complete control and awareness over all your deliveries. You will received push notifcations alerting you when there is a delivery in your bench.
Having your pakcages placed into the bench upon delivery keeps them not only out of sight, but also keeps them dry and protected from all weather elements. Never worry again that your package is sitting out in the rain and snow.
---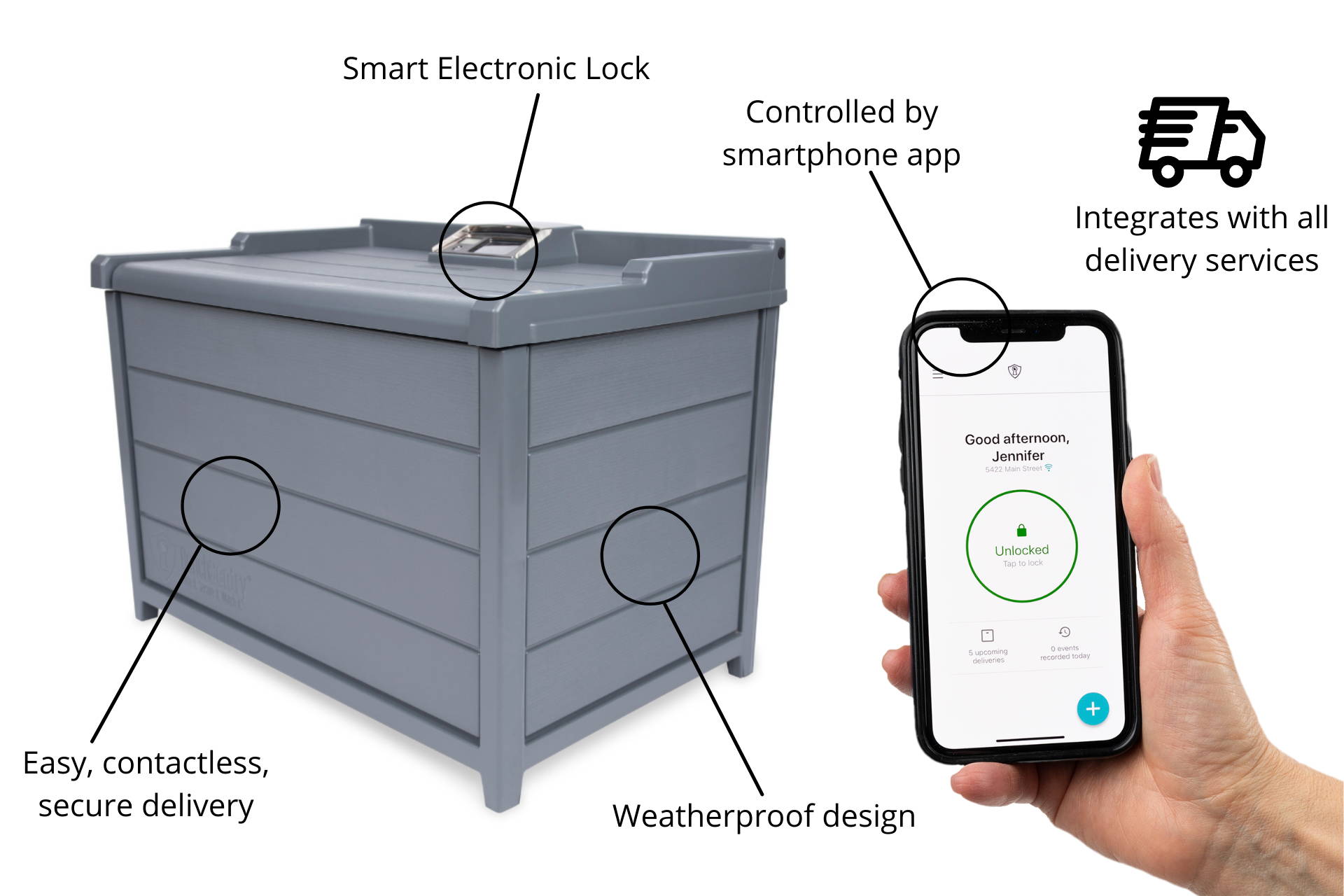 ---
A Covid-19 Must-have

"Have been using a BenchSentry for a few months but since being quarantined from the pandemic, this has been the perfect go-between for getting amazon deliveries, grocery deliveries and the occasional Door Dash. No need to put either of us at risk and it makes it easy to use for the delivery person and my family. Company has a great product that is standing up to the weather and making life a little easier being inside."
Bishop D.
October 15, 2020
Best Protection
"I bought this for my parents, they have medicine and other items delivered and this keeps them all safe and secure until they retrieve them. Their neighbors have all had packages stolen in the last couple of months, while my parents have been safe. Really a good looking product and works very well."
Michael H
July 5, 2020
So glad to have BenchSentry!
"We have experienced porch pirates so I was "all in" the minute I saw the BenchSentry—and it does not disappoint. You can give Amazon, UPS, Fedex, etc. a special code that is always in their system so they can drop off at any time, or enter your tracking #s. You can even create a special code for a friend or neighbor who plans to drop something off—all with an easy-to-use app on your phone. Plus, it takes a photo of the delivery person! I simply cannot say enough about the excellent customer service, absolutely wonderful. Stopping porch pirates saves us all money—BenchSentry is the answer!"
Laurie G
July 3, 2020
---
Keep your packages our of sight, locked, and protected.
---
The BenchSentry can be used for package deliveries and as a seat.
---
Delivery drivers can use tracking numbers, or create codes for personal deliveries/ pickups.
---
BenchSentry - Hide it. Secure it.
Listen to what our customers have to say!