Countdown to Christmas
Order Today!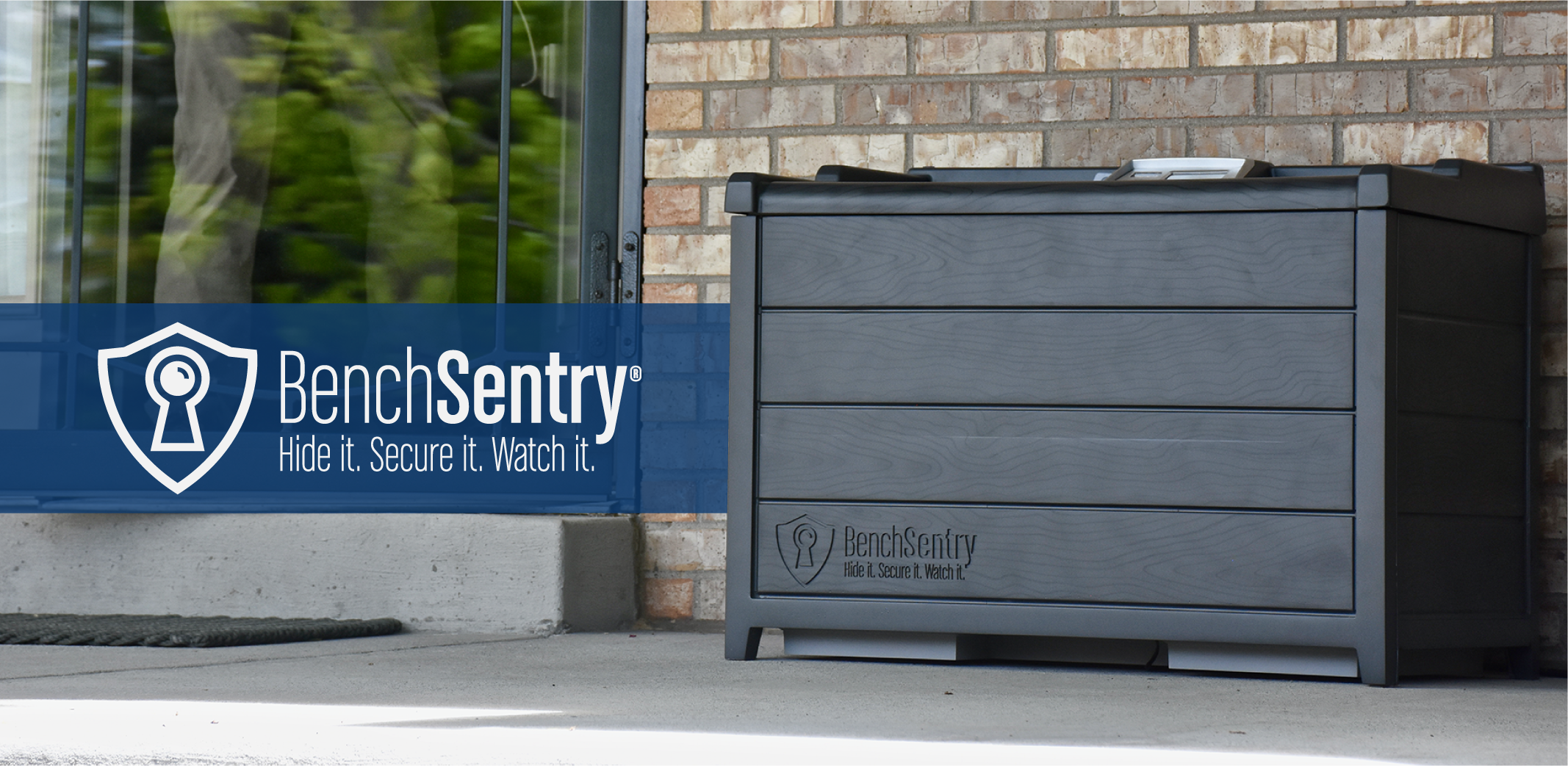 Looks like a bench, protects like a safe, works from your smart phone.

Add UPS, FedEx, and USPS tracking numbers to BenchSentry for real-time tracking and monitoring of package deliveries. Once the carrier delivers your package, BenchSentry notifies you with image confirmation and then automatically locks so it's ready for the next delivery.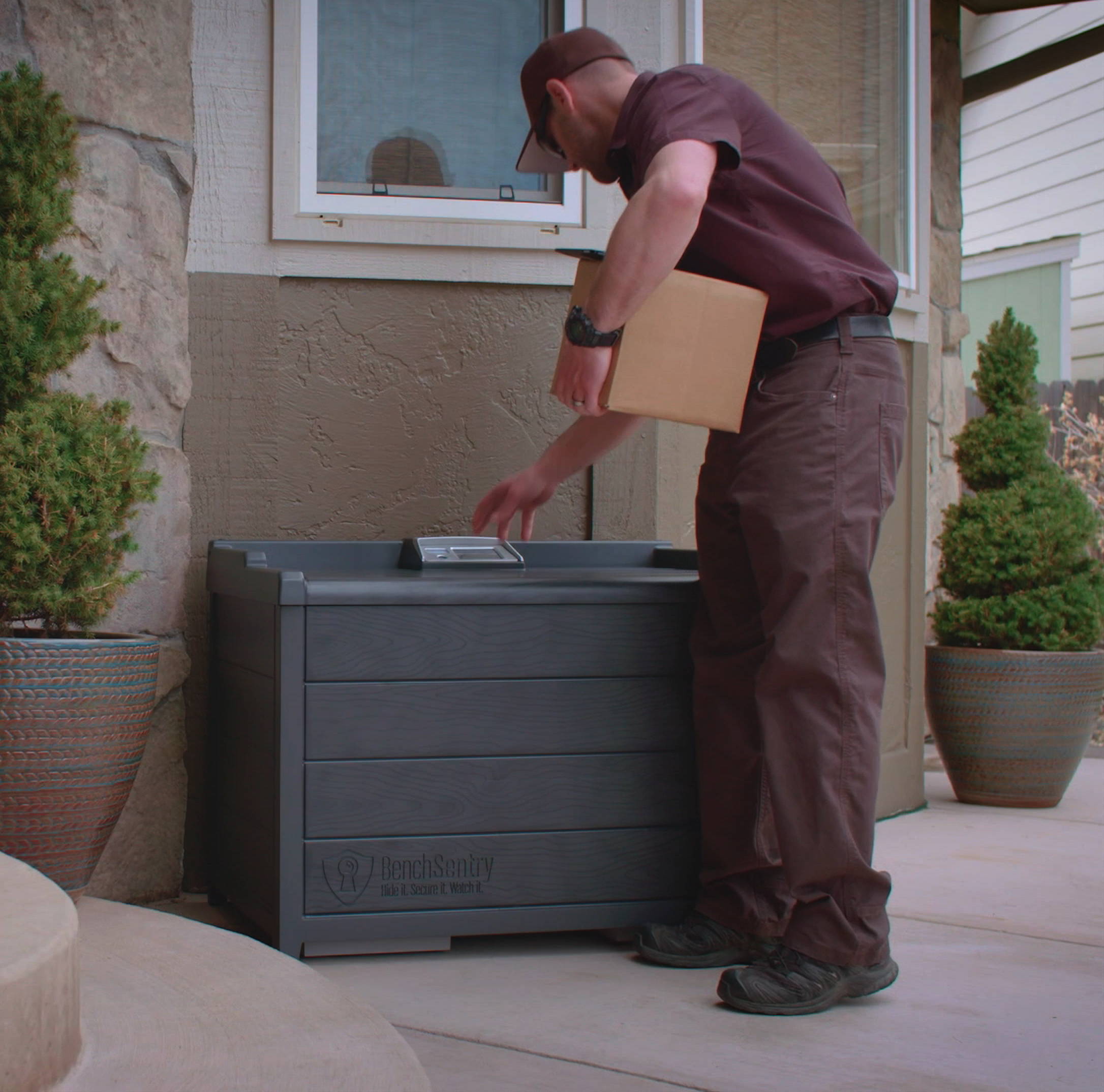 Receive your BenchSentry in time for Black Friday and Cyber Monday!


---
---
Gift your parents, grandparents, siblings and more with a BenchSentry! Order today to ensure your loved ones receive their BenchSentry Vault in time for the holidays.
Helping you through the holiday hassle
---
Are you feeling the effects of pre-parcel anxiety? If you find yourself anxiously waiting for packages, frequently glancing out the front window or listening for the courier's truck outside your house, let BenchSentry ease your anxiety.
We're here to ensure the safe-keeping of all your gifts, groceries, and goods this season.
---
Your new holiday helper
Contactless. Secure. Easy to Use.
Designed with you in mind. Whether you are giving or receiving gifts this holiday season, we are here to make sure your treasured gifts stay safe and secure.
The BenchSentry app allows you to take care of your packages from anywhere. You can lock or unlock your bench and track your packages all in the palm of your hand!
Would you recommend BenchSentry to friends and family?
"ABSOLUTELY!"
"I bought this for my parents, they have medicine and other items delivered and this keeps them all safe and secure until they retrieve them. Their neighbors have all had packages stolen in the last couple of months, while my parents have been safe. Really a good looking product and works very well".
Michael H.
"I love our BenchSentry! Especially since we have been ordering so much online due to COVID-19. It is reassuring to have the peace of mind to know our packages are secure from porch pirates and the elements. It is also a convenient, secure way to leave sold products out for pick up for my home business. Simply provide my customers with a custom code, and they can pick up their orders securely! The smartphone app is easy to use and a great way to monitor who is accessing our BenchSentry. We recommend this product to everyone".
Darcy S.
"We have loved seeing the amazing innovation this BenchSentry team keeps adding to their product with each generation. My kids fight over who gets to check it each day. They tell their friends,"Oh, just put my toy back in the BenchSentry when you return it." The Bench is great for selling things online with no contact to the buyer, just give them a code, put the product you are selling in the box and tell them to take item and leave the money in the BenchSentry. With the notifications coming to your phone when it is opened, you know when to retrieve your money!!! And it can be locked unlike a milk box".
Jason T.